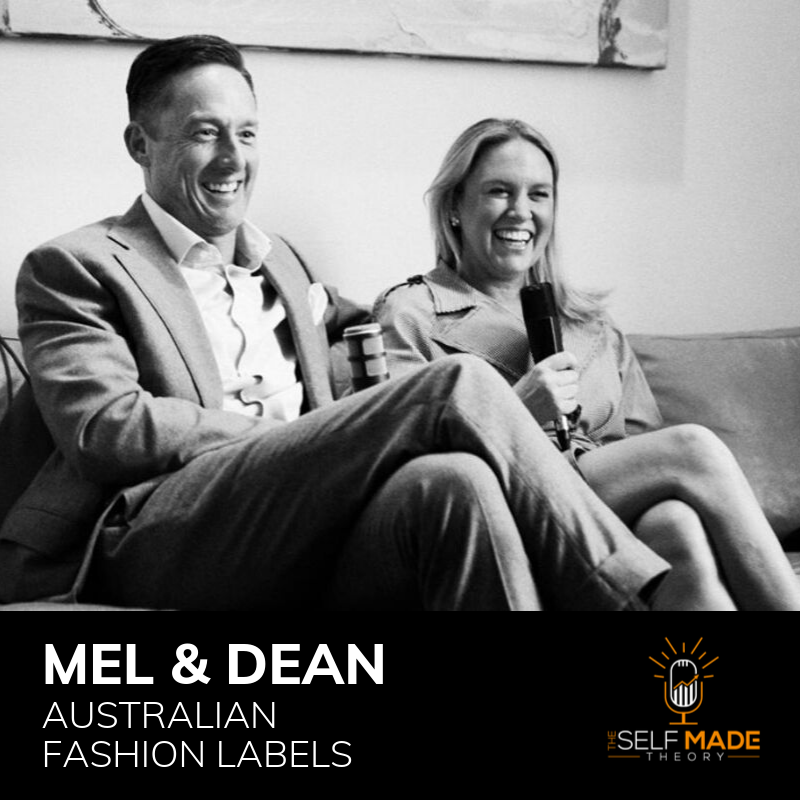 A great interview with husband and wife duo, Mel and Dean Flintoft.  In 2007, they founded Australia Fashion Labels, a business that now has 5 fashion labels sold throughout the world, both online and through 1700 stockists in 26 countries.
As you can imagine, the fashion world has changed dramatically since 2007.  In our conversation, we discuss:
Starting a business in the Global Financial Crisis with no money

Disrupting an industry that was doing seasonal collections (4 per year), by producing 12 collections per year (500+ new products every month!)

The change in retailing, including bricks & mortar, online and department stores

How to succeed in an industry that is "low barrier to entry", but "high barrier" to success
It's a great story – I LOVE the fact, as a husband and wife team, they work so well together.  I hear plenty of stories from businesses that are family-based where being related isn't a good thing.
If you're an entrepreneur, or business leader, and are faced with challenges in your startup, scale up or established business that you're not sure how to solve for, then contact us to discuss how our Executive Coaching / Advisory practice can help you.  Email us on coach@theselfmadetheory.com
Until next time….keep INNOVATING, OVERCOMING and PROSPERING
CONTACT DETAILS FOR MEL, DEAN & AUST FASHION LABELS
Web:   
https://www.australianfashionlabels.com.au/
Linkedin:
https://au.linkedin.com/in/dean-flintoft-4335b893
https://au.linkedin.com/in/melanie-flintoft-39276094
https://au.linkedin.com/company/australian-fashion-labels-pty-ltd
Facebook:
https://www.facebook.com/thefashionbunker/
Instagram:
https://www.instagram.com/fshnbnkr/
https://www.instagram.com/finderskeepersthelabel/
https://www.instagram.com/keepsakethelabel/
https://www.instagram.com/thefifthlabel/
https://www.instagram.com/cmeocollective/
https://www.instagram.com/jaggarthelabel/
CREDITS
Audio Post Production by S.Byrne, in collaboration with the SAE Creative Media Institute, Adelaide, Australia
HELP US
I trust your learning some great stuff from all the great entrepreneurs and leaders we feature here on the podcast.    If you are and feel like the podcast is adding value to your business, your career, your ideas or your life, and you would like to help fund the ongoing costs of producing the podcast, then head to
www.patreon.com/theselfmadetheory.
Even if you can donate the cost of a cup of coffee per month, that would be immensely helpful - check with your accountant, you might even be able to claim it as a tax deduction.  Thanks for your support
Play Now